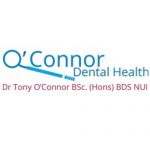 Long Business Description
Dr. Tony O'Connor shares 5 reasons why you should choose O'Connor Dental Health. O'Connor Dental Health is based in Ballincollig, Cork. O'Connor Dental Health offers a wide range of Dental Treatments, based in the heart of Ballincollig in Cork, they offer a state of the art Dental Clinic ready to treat Children and Adults alike.
As well as the general Dental Services such as restorative treatments aimed at saving teeth, cosmetic treatments to improve the appearance of a smile, O'Connor Dental Health offers specialist orthodontic treatments aimed to straighten teeth. Adding to this, the clinic specialises with Myofunctional Therapy, and early corrective treatments aimed to treating the underlying causes to crooked teeth and health problems early on before they become more serious issues.